Become a member
Electronic forms have been provided to speed up the process of registration.
Non SAQHA Members can fill in this form to register as a SAQHA Member. The form will automatically be submitted to the secretary, and the information loaded on the website.
A copy of the registration form will also be emailed to the new member.
After submitting the form, a new website account will be created automatically for the new member.
An email will be sent to the member to confirm their email address. Please click on the link in the email to confirm your email address.
The new member will be able to login to the website once the email address has been confirmed.
Once the membership has been confirmed by SAQHA, a SAQHA Member number will be allocated and updated on the website.
1. Become a Member
Fill in the registration form below and click on "Create Member" to submit the form to the secretary.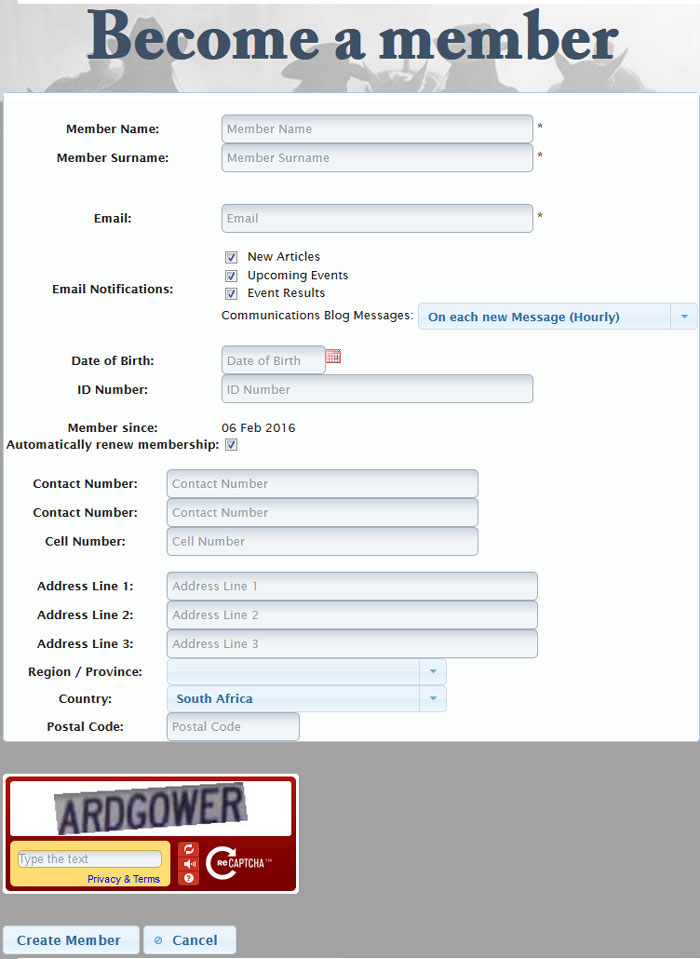 Figure 1: New Members Registration Form
Field
Description
Member Name
Member Name
Member Surname
Member Surname
Email
Email address. This email address will be used by SAQHA to correspond with the new member. This email address will also be used as the username for the website account. The username can be changed on request.
Email Notifications: New Article
Send a notification to the member on New Articles that has been added on the website.
Email Notifications: Upcoming Events
Send a notification to the member on Upcoming Events. Notifications will be sent +- 14 days before the event
Email Notifications: Event Results
Send a notification to the member on Event Results. Notifications will be sent to participants and owners of the participating horses. A link will be provided to the results page.
Email Notifications: Communications Blog Messages
Send a notification on any updates or new discussions on the Communications Blog.
Options: None, Every Message (Hourly), Once a day per topic, Once a day for all Messages
Date of Birth
Date of Birth. An article will be posted on the website to congratulate members on their birthday
ID Number
South African ID Number / Passport Number
Automatically renew membership
Membership will be automatically renewed, and applicable fees charged
Contact Number
Contact Number
Cell Number
Cell Number
Address Line 1 + 2 + 3
Address
Region / Province
Region / Province
Country
Country
Postal Code
Postal Code